Taylor Swift Underwhelms in Silver at the Met Gala — And the Internet Has a Ball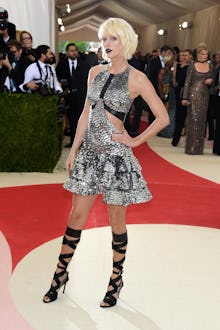 With a theme like "Manus x Machina: Fashion in an Age of Technology," we knew we'd get our fair share of women dressing like robots on the Met Gala red carpet. But we just thought that Taylor Swift, given that she's this year's honorary chair, would go for something a little more unexpected. 
Well, she didn't. 
Instead, she paired her newly-bleached hair with a decidedly on-trend silver, reptilian mini dress by Louis Vuitton and black lace-up heels. 
Read more: OK So, What Actually Is the Met Gala?
The look was straight out of Barbarella. So immediately, of course, the internet started digging in. 
To some, it looked like she was trying to portray a fish. 
To others, a chicken mid-cook, or just tin foil itself
...or a single Hershey's kiss. 
Meanwhile, other viewers seemed to be obsessed with how Swift must be having a late-breaking goth phase. 
(We are in full support of this.) 
Whatever your own thoughts on the dress may be, there's no denying that she sparked a trend that would last nearly the entire red carpet, with celebs from Kylie Jenner and Demi Lovato to Rita Ora and Ciara embracing sparkles and metallics. 
"I think this is just checking off all the boxes on tonight's theme," E! Live on the Red Carpet host Giuliana Rancic said on Monday night. 
Sometimes, it seems, you've just got embrace the theme.