Before the Met Gala Even Began, the Internet Was Smitten With Claire Danes' Light-Up Gown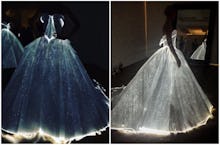 Before this dress even graced the Met Gala red carpet, the internet was transfixed. 
On designer Zac Posen's Instagram account Monday evening, he teased an image of a dress entirely lit up. It looked like what we imagine Cinderella's ballgown would look like in 2070, which is pretty fitting since the night's theme was all about "Fashion in an Age of Technology." 
"Celestial grandeur. Illuminating ballgown. Guess who?" he teased. 
Read more: OK So, What Actually Is the Met Gala?
Commenters immediately jumped to names like Beyoncé, Rihanna, Heidi Klum, Rachel McAdams and Lady Gaga. So to narrow the field, Posen posted a picture of the dress from the back, revealing that the wearer was a blonde. 
With anticipation only rising, Twitter immediately started to buzz as well.
Minutes later, Posen became even more coy, keeping the room dark while filming a video of the dress in motion and posting it again on Instagram. "Starry night!" the caption read. 
(We'll take 12, thank you.) 
Well, on the red carpet, it was revealed that the lucky lady wearing this literal dream was actress Claire Danes, who happily spun in the dress all the way to the Met. 
We'd say this is pretty accurate: 
On a night like this one, with this added punch of fiber optics in organza, it perfectly suited the Gala's theme, while making us all unabashedly and entirely jealous.