Marine With Concealed Carry Dies After Intervening in Domestic Dispute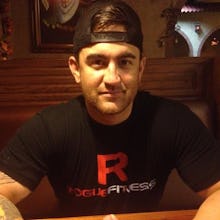 A domestic dispute in Arlington, Texas, ended after a third man with a concealed carry permit attempted to intervene and was ultimately shot dead himself, the Dallas Morning News and others reported Monday. 
Ricci Bradden, a 22-year-old solider at Fort Hood, had been quarreling with his wife Quinisha Johnson in the parking lot of the Walgreens where she worked. Bradden reportedly shot at Johnson twice, one bullet hitting the ground near her feet, while another struck her ankle. Johnson fled the scene screaming — which drew the attention of T.J. Antell, a 35-year-old ex-Marine and father of three who owned an area CrossFit gym.
Read more: A Tearful Obama Announces New Executive Actions on Gun Control
Antell, weapon in tow, approached Bradden who was preparing to leave and demanded that he stop, according to the Dallas Morning News. Bradden, however, retrieved his pistol once more to shoot Antell in the head — killing him. 
Bradden fled the scene, called his father and ultimately turned himself into local authorities later that day.
"He went into protective mode," said Marc Lowrance, Antell's pastor, according to the Washington Post. "He's a father, he's protective by nature. And he thought he could help everyone involved, and tragically it went a different way."  
Johnson was taken to a local hospital where her injuries were not considered life-threatening.
As the debate around U.S. gun laws intensifies, Americans are rushing to scoop up concealed carry licenses in ever-greater numbers. Between 2007 and 2015, the number of U.S. citizens holding the permits nearly tripled from 4.6 million to 12.8 million, the Washington Post reported.