This Amazing 14-Year-Old Indian Girl Is Going to Compete in Wimbledon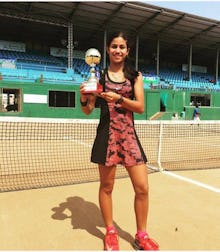 Tanisha Kashyap from Guwahati, a city in Assam, India, has qualified to compete in the HSBC Road to Wimbledon in August for players under 14 years old. She is the first girl from Assam to represent her country and seeded No. 1  in her category throughout all of India. 
Kashyap is a national champion and has also acquired over a dozen junior titles. 
She has been coached in Delhi by Vivek Shoken and Vishal Uppal, both of whom used to compete professionally, even playing in the Davis Cup.
In an attempt to galvanize interest in tennis domestically, the All India Tennis Association teamed up with HSBC and Wimbledon to host four qualifying events, concluded by a Masters competition. Players competed around the country in Indore, Hyderabad, Delhi and Mumbai, with the final event — which Kashyap won — taking place in Kolkata.
The young tennis phenom also reigned over the Girls' Doubles competition in January, coming out as the victor with teammate Prerna Vichare.
The world awaits Kashyap's performance at Wimbledon's U-14, with the expectation she'll be returning under slightly different circumstances in a few years.