Emma Watson's Met Gala Dress Was Made Entirely of Recycled Plastic, and It Slayed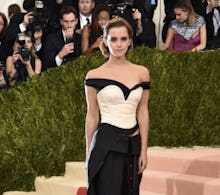 Emma Watson made a case for recycled fashion at Monday night's Met Gala in New York City. The movie star and activist collaborated with designer Calvin Klein and Eco Age creator Livia Firth to create her dress for this year's theme: "Manus x Machina: Fashion in an Age of Technology."
It was certainly modern fashion at its finest: Watson, an outspoken feminist and human rights activist, donning a gown paired with black pants, a black off the shoulder sash and a white bustier. She later uploaded a photo from the red carpet to Facebook, writing, "I am proud to say it is truly sustainable and represents a connection between myself and all the people in the supply chain who played a role in creating it."
"Plastic is one of the biggest pollutants on the planet," Watson continued. 
Being able to repurpose this waste and incorporate it into my gown for the#MetGala proves the power that creativity, technology and fashion can have by working together... It is my intention to repurpose elements of the gown for future use. The trousers can be worn on their own, as can the bustier, the train can be used for a future red carpet look... I'm looking forward to experimenting with this. Truly beautiful things should be worn again and again and again.
Watson ended her ode to her recycled dress with a shoutout to the #30Wears campaign she and Firth are both a part of, promoting the reuse of clothes to reduce fashion's potentially devastating impact on Earth.
Those who saw her look online were in awe of how eloquently Watson's traditional Hollywood glamour paired with the dress' contemporary aesthetic:
Read more: Emma Watson Just Tore Apart Everyone Who Thinks There Is No Gender Gap