Fresh Off Becoming the New Face of the $20 Bill, Harriet Tubman Is Getting Her Own Movie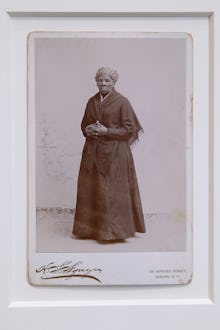 Hollywood is rife with films about superheroes, Marvel, DC Comics or otherwise, and by comparison, are sorely lacking in films about real people, who were in fact heroes in their own right. Few Americans have embodied such heroic traits more than Harriet Tubman, a former slave who later helped hundreds of others escape through the Underground Railroad. 
Now, Tubman is getting a movie of her own as well. Deadline reported that the film Harriet is in the works, with Homeland and The Walking Dead alum Seith Mann set to direct. There are few details about the film beyond that; filming is expected to begin this year with a script from Gregory Allen Howard, who most notably wrote the screenplay for Remember the Titans. Thus, we can't yet determine if the film will focus broadly on Tubman's life, or specifically focus on, say, the Underground Railroad or her time as a spy for the Union Army during the Civil War. 
Regardless, it comes off the heels of the historic announcement that Tubman would appear on the $20 bill, replacing former President Andrew Jackson on the front. As for a potential Tubman casting, Mann could begin the search with Octavia Spencer, who did an excellent job portraying her in an episode of Drunk History. 
Read more: Harriet Tubman's Unearthed Story From Her Biography Gives New Significance to the $20 Bill
h/t Deadline