In One Post, Tech CEO Mark Woodward Reveals What He Really Thinks About Low-Income People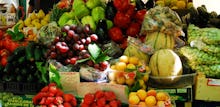 Disdain for poor people usually emerges in quiet conversation around a dinner table, or in public policy that subtly marginalizes low-income people. But Silicon Valley's nouveau riche take their problems straight to the people.
Mark Woodward, CEO of Silicon Valley tech company Invoca, went on a Facebook tirade about the kind of havoc he'd like to wreak on roadside food vendors who dared to come near his home.
It began with a post on Willow Glen Charm, a Facebook group for a San Jose community. The anonymous post complained about a roadside fruit seller, suspecting that the owners of the cart were watching the homes and might have been responsible for a nearby burglary
While most of the commenters shamed the anonymous poster for their blatant classism, calling the post "very prejudiced" and "elitist, racist & judgmental," Woodward couldn't agree with the poster more.
"If that was my house, I would go there and make their life miserable," Woodward wrote in a now-deleted comment. "I would do whatever it took to make them leave. If that meant destroying some of their produce, or standing out there with signs to chase everyone away. Or just making them very uncomfortable, I would do that in a heartbeat."
Bold disdain: Woodward joins the ranks of Silicon Valley tech elites who publicly insult poor people, along with CEOs like AngleHack's Greg Gopman, who once complained that San Francisco was "overrun by crazy, homeless, drug dealers, dropouts and trash."
Beyond online proclamations, Silicon Valley classism shows itself in the way apps are designed to ignore the needs of low-income people, like how Uber serves the same wealthy constituency as cab companies. It shows in the way local systems are disrupted by profiteering middlemen, like on-demand services and delivery apps in the Bay Area.
It shows in defenses of inequality, like Paul Graham's blog post about how inequality benefits us all. It shows in the way startups rapidly and callously displace local residents of once-affordable communities.
Sometimes classism shows itself openly on the internet, with tech CEOs railing loudly against the poor. Sometimes — most of the time — it's kept private, baked quietly into the design of the products and services Silicon Valley creates.
May 3, 2016, 3:44 p.m.: In a post on Medium Tuesday afternoon, Woodward apologized, saying he is "terribly sorry" for "insensitive and offensive" comments. He wrote:
While my comments were understandably offensive to some, I made them in response to several incidents that have made me and my neighbors feel unsafe, including one that required me to call the police because individuals were physically threatening me at my home. In reading a post in which a neighbor wrote about fears for the privacy and safety of his family, I responded from the hip based on my own experience and concerns for the safety of my family. I did so without taking into account the larger implications and repercussions of my words. That was not in good form.