Target "Active Shooter" Was Just "Big, Bearded Man" Protesting Inclusive Bathrooms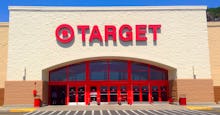 Police responded to a 911 call of an active shooter situation inside a Bradley, Illinois, Target on Monday afternoon to instead find an unarmed man causing panic among customers. 
Michael Merichko, 39, was taken into custody for disorderly conduct after protesting the retail giant's nationwide bathroom policy, which allows employees and customers to use the bathroom that matches their gender identity. 
According to a Chicago Patch report, the store was "surrounded by heavily armed police Monday afternoon in search of a gunman, but no armed man was found. Police did find a big, bearded man who has issues with Target's toilet rules."
On April 19, the company issued a statement clarifying its own restroom and fitting room policies, which fly in the face of the anti-transgender laws enacted in states like North Carolina recently.
"We believe that everyone — every team member, every guest and every community — deserves to be protected from discrimination, and treated equally," the company wrote. "We welcome transgender team members and guests to use the restroom or fitting room facility that corresponds with their gender identity."
Read more: President Obama Just Denounced North Carolina's "Bathroom Bill"