Donald Trump Says Ted Cruz's Father May Have Been Involved in JFK Assassination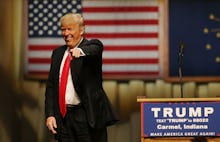 As the Ted Cruz campaign stares down increasingly grim prospects, GOP frontrunner Donald Trump took a break from attacking his chief rival to instead focus on his father. 
On Tuesday, the New York billionaire raised the possibility that Cruz's father, Rafael Cruz, might have been complicit in the 1963 assassination of President John F. Kennedy.
Read more: Nearly 40% of Florida Voters Agree: Ted Cruz Is/Might Be the Zodiac Killer
"His father was with Lee Harvey Oswald prior to Oswald's being — you know, shot. I mean, the whole thing is ridiculous," Trump said during a phone interview with Fox News, Politico reported. "They don't even talk about that. That was reported, and nobody talks about it."
"I mean, what was he doing — what was he doing with Lee Harvey Oswald shortly before the death? Before the shooting?" he added.
The Cruz family has found themselves mired in conspiracy and controversy before — though until recently, most of the fire has been trained solely on the Texas senator. In addition to potentially being the frontman for the Christian metal band Stryper and a one-time guest on Maury, Cruz has been widely dogged by accusations that he is the Zodiac Killer. 
The California serial killer was never apprehended, and even though Cruz was born in Canada in 1970 — a full two years after the murders began — nearly 40% of Florida voters polled in February said he was or might be the murderer. The long-running joke reached such lengths that it was formally denounced by Cruz's wife on Monday.
"Well, I've been married to him for 15 years, and I know pretty well who he is, so it doesn't bother me at all. There's a lot of garbage out there," Heidi Cruz told Yahoo! News.