7 Themes From Drake's 'Views' That Are Nearly Exact Rips From His Past Albums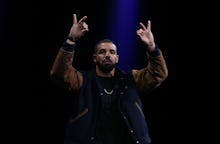 If you got a strange feeling of deja vu listening to Drake's Views on Friday, you were not alone. 
Hasn't Drake already told his several of ex-girlfriends he's too good for them? Yes, several.
Hasn't he driven through Toronto late at night, thinking about old, fake friends and faker old flames? Yes, many times.
Drake's Views, as many publications noted, is, for better or for worse, yet another Drake album. "We've all heard enough about his ex-girlfriends at this point," the Smoking Section wrote in its review. "As a Drake fan, I know more about random Hooters waitresses and Walgreens employees than I ever cared to. What else is on his mind?"
Read more: Drake Memes Take Over After 'Views' Release — and That's Exactly What He Wants
That article, along with similar reviews published on Pigeons and Planes and Playboy, admits the songs are solid. They're some of the better ex-girlfriend sob tracks Drake has ever put on wax. But during a year when all every other celebrity on his echelon — Kanye West, Rihanna, Beyoncé, Kendrick Lamar — has dropped an album that has completely reshaped their artistic images, Views falls flat. 
The closer one gets to the actual lyrics, the more glaring Drake's thematic copy-and-pasting is. This is a young artist with a lot to prove, and he's already digging himself into deeper and deeper narrative ruts, adding more credence to the "sensitive" and butter soft stereotypes that have followed him since Degrassi. 
Call it part of his world-building; call it part of his reinforcing the Drake persona he's been building over the past 10 years. But for fans thirsting for something new out of the 6 god, they won't be finding it in any of the following lyrics.
Drake sees unrealized potential in a girl on "Keep the Family Close."
The lyrics: "Always saw you for what you could've been/ Ever since you met me/ Like when Chrysler made that one car that looked just like the Bentley"
Sound a lot like "Madonna:" "You could be big as Madonna/ Just get in the car and then let's touch the road/ Don't make other plans."
Drake feels his exes still belong to him on "U Wit Me?"
The lyrics: "I tell 'em they belong to me, that goes on for forever/ And I think we just get closer when we not together."
Sound a lot like "Shot for Me": "Alisha, Catya, I know that you gon' hear this/ I'm the man, yeah I said it/ Bitch, I'm the man, don't you forget it/ The way you walk, that's me/ The way you talk, that's me."
Drake stresses over how potent his girls' texts are on "U Wit Me?"
The lyrics: "I wanna know how much time you spent on them paragraphs/ Where you're getting me/ All that grey in our conversation history, you/ Playin' mind games, when you sayin' things"
Sound a lot like "Messages From You:" "I hate getting, messages from you, from you/ It's like you know the perfect shit to say/ Fucks up my whole day/ I thought that all these feelings went away"
Drake meditates on the women that keep breaking him into millions of tiny "pieces" on "Redemption."
The lyrics: "Why do I settle for women that force me to pick up the pieces?/ Why do I want an independent woman to feel like she needs me?"
Sound a lot like "Connect:" "But when it all falls apart, I'm always still down/ To pick a million tiny pieces off the ground"
Drake tries to convince his exes to call him on "Pop Style."
The lyrics: "Yeah, you've been on my mind lately/ You've still got my number, girl you need to call me"
Sound a lot like "Days in the East": "Waitin' on you to give in and hit me up/ So I could fall through like old times and hit it up"
And like"Come Through:" "We ain't spoke in so long, probably put me in the past/ I can still get you wet, and I can still make you laugh"
Drake brags about how much he can buy for his lady on "Child's Play."
The lyrics: "Take you to the mall and get you a new outfit/ Girl, that's just some child's play"
Sound a lot "Energy": "I bought this one a purse, I bought this one a truck/ I bought this one a house, I bought this one a mall/ I keep buyin' shit, just make sure you keep track of it all"
Drake makes sure the world knows he's too good for his girl on "Too Good." 
The lyrics: "I'm too good to you/ I'm way too good to you/ You take my love for granted"
Sound a lot like "Diamonds Dancing:" "I'm too good for you, too good for you/ You should go back to him, perfect match for you, unstable"