Meet Squash Star Maria Toorpakai Who Hid as a Boy So She Could Play in Pakistan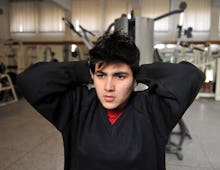 For 25-year-old Maria Toorpakai, squash isn't just a hobby — it's her passion, and she was willing to risk death just to get the chance to play. Toorpakai was born in South Waziristan, Pakistan, an area the New York Times has called "the Taliban's main stronghold."
Not only is Waziristan "one of the most dangerous places on earth," as NBC News reported, it is also "a place where women don't have the right to leave their home unaccompanied." As a girl in the ultra conservative region, Toorpakai was likely destined for a future as a wife and mother, without the education and freedom of choice granted to boys.
But Toorpakai's father, Shamsul Qayyum Wazir, believed strongly his daughters should have the same opportunities as his sons, according to Toorpakai's biography on her website, and when Toorpakai cut her hair and began wearing pants and playing with the boys in her neighborhood, her family supported her.
Soon Toorpakai was living as a boy, going by the name Changez Khan, and participating in activities that weren't supposed to be open to girls — and Toorpakai, along with her family, was taking an enormous risk by living in disguise. Despite the risk, she had her family's support.
"Giving her a false boy's name allowed her to take part in whatever games she wanted," her father told the BBC in 2013.
As Khan, Toorpakai excelled, winning weightlifting competitions, and soon emerged as an amazingly talented squash player.
"I just liked how the kids had so much determination, the beautiful rackets and balls, and the kit," she told the BBC, describing her love affair with the sport. Soon she was ranked third in the world in the under 19 category.
But when she was 16, Toorpakai "was required to present her birth certificate to become a member of the Pakistani Air Force squash academy," reported NBC News — and that's when her secret was out.
Toorpakai tried to continue playing squash as a girl, but she was bullied by her classmates and inundated with death threats. "Every day my family is risking their life," she told NBC News. "Every day there is a struggle." 
Toorpakai went into hiding, hitting balls against the wall of her bedroom and writing letters to squash coaches all over the world, hoping one would give her the chance to leave Pakistan and keep playing.
Finally, Toorpakai got a response. Jonathon Power, a former squash star, was inviting Toorpakai to train with him and live in Toronto. Toorpakai accepted, but her family stayed behind in Pakistan. "I love Canada. I love Canadian people," Toorpakai told NBC News, but "Pakistan is the country where I was born. I love that country, and it's like a mother."
Toorpakai is now "Pakistan's top-ranked female squash player," according to NBC News, and the star of the upcoming documentary The War to Be Her and the new biography A Different Kind Of Daughter: The Girl Who Hid From The Taliban In Plain Sight, released Tuesday.
She also speaks openly about her hopes for her home country. "In our society people celebrate when a boy is born and they are aggrieved when a girl is born," she told the BBC. "This attitude must change. I want every tribal girl to have the same chances as other girls."