Amy Schumer Put Deodorant on Her Thighs to Make Sure They Didn't Chafe at the Met Gala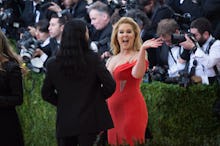 Amy Schumer looked as glamorous as ever at the 2016 Met Gala, but her truly most beautiful form occurred just moments before as she was readying for the special event. The comedian and actress shared a revealing video on Instagram proudly showing off what she did to make sure her thighs didn't chafe together Monday night.
In the video, the star is seen in her red Alexander Wang dress while applying a line of deodorant to each leg right in between her thighs. After completing the trick to achieve beauty without pain, Schumer looks up at the camera, clearly proud of herself for one of her most relatable feats to date. 
Upon seeing her deodorant-for-comfort hack, fans were shocked to see Schumer is just your typical girl trying to fit into a star studded crowd. Comments like "Real talk!" "Omg this is me," and "Why have I never thought of this" immediately flooded the entertainer's post, which received well over 100,000 likes in less than 24 hours.
It's not the first time the celebrity has made it clear she's comfortable with her body just the way it is. When Glamour included her in a plus-size issue, she slammed the publication for failing to recognize the abundant variety of sizes and shapes of women's bodies, instead of boxing everyone into categories.  
"Young girls seeing my body type thinking that is plus size?" she wrote in another Instagram post. "What are your thoughts? Mine are not cool Glamour not glamourous."
In case you were wondering how else Schumer prepared for fashion's biggest night, she did it in style, obviously: