Radiohead Shares "Burn the Witch" Music Video, the Group's First in 5 Years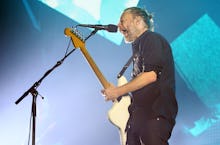 For the past five years, all that's come from the Radiohead camp is rumor, speculation and silence. They were planning an album; delayed that album; released a rejected soundtrack single; then pulled a Beyoncé, announcing a world tour without an album to go with it. 
The mystery reached its most profound depth Sunday when the band erased its internet presence. It seemed a sign that the drought would soon be over. Three days later, those blank platforms are miraculously filling again.
Read more: Radiohead's New Album Is Not Here Yet, But Here's What We've Learned
Tuesday, Radiohead returned with their first full music video in five years, "Burn the Witch." The song comes with a darkly pastoral Rite of Spring symphonic quality that provides the perfect backdrop for Thom Yorke's ghostly and dearly missed croon.
Using deceptively adorable claymation, the video tells the story of an outsider visiting a small isolated town to observe their daily lives. Yet this probing eventually spells the man's doom. The townspeople lock him in a large wooden statue reminiscent of Burning Man's centerpiece and try to burn him alive.
Radiohead teased the "Burn the Witch" theme with a random mailer sent to fans who had ordered from the band before. "Sing a song of sixpence that goes/ Burn the Witch/ We know where you live," the pamphlets, embossed with the band's logo, read.
According to Consequence of Sound, "Burn the Witch" will be coming to all streaming platforms Wednesday — a major surprise for fans who woke up to find much of the band's music stripped from Spotify in April. Beyond that, there's precious little information about what the band has planned. Fans have no other choice but to stay tuned.
Watch the video below.