Flailing in Polls, Ted Cruz Completely Unloads on Donald Trump Ahead of Indiana Primary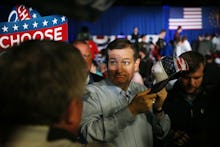 Now it's really getting heaTED.
Facing another painful defeat in the battleground Indiana Republican primary, Ted Cruz let loose on frontrunner Donald Trump Tuesday with a blistering attack, calling him out on everything from "pathological" lying to running around on his wife.
Read more: Indiana Is No Guaranteed Firewall for Ted Cruz Against Donald Trump
"I'm going to tell you what I really think of Donald Trump. This man is a pathological liar. He doesn't know the difference between truth and lies. He lies practically every word that comes out of his mouth," the Texas senator told reporters at a fiery Evansville, Indiana, news conference.
Cruz went off on Trump as Hoosiers went to the polls amid surveys showing the real estate billionaire up by an average of a cushy 10 points in the pivotal contest.
If Cruz gets steamrolled in Indiana, it will be his seventh straight loss to Trump as the candidates fight it out to reach the 1,237-delegate mark needed for the GOP nomination.
He unloaded on Trump as a "serial philanderer" who brags about his dalliances and appealed to Indiana voters "who long for a day when we were nice to each other, when we treated people with respect, when we didn't engage in sleaze and lies."
"I would note one of the lies he engages in, listen, Donald Trump is a serial philanderer and he boasts about it. This is not a secret. He's proud of being a serial philanderer," Cruz continued.
"I want everyone to think about your teenage kids. The president of the United States talks about how great it is to commit adultery, how proud he is, describes his battles with venereal disease as his own personal Vietnam. That's a quote, by the way," Cruz said.
Cruz also tore into Trump for touting the endorsement of former boxing champion Mike Tyson, who was convicted of assaulting a teenaged Miss America contestant in 1992.
"I spent a lot of years in law enforcement dealing with rapists. Rapists are weak. They are cowards, and they're bullies, and anyone that thinks they're a tough guy, that reveals everything about Donald Trump's character," he said.
The Texas-sized tirade came after Trump talked up a National Enquirer story claiming Cruz's father was an associate of Kennedy assassin Lee Harvey Oswald.
"This is nuts. This is not a reasonable position. This is just kooky," Cruz scoffed. "And while I'm at it, I guess I should admit my dad killed JFK. He's secretly Elvis and Jimmy Hoffa is buried in his backyard."
Later Tuesday, Trump — who's been brushing off endless accusations of not being presidential enough to run the country — issued a statement suggesting Cruz was cracking under the weight of his collapsing White House bid:
Ted Cruz is a desperate candidate trying to save his failing campaign. It is no surprise he has resorted to his usual tactics of over-the-top rhetoric that nobody believes. Over the last week, I have watched Lyin' Ted become more and more unhinged as he is unable to react under the pressure and stress of losing, in all cases by landslides, the last six primary elections --- in fact, coming in last place in all but one of them. Today's ridiculous outburst only proves what I have been saying for a long time, that Ted Cruz does not have the temperament to be President of the United States.