Male Conservative Activists Are Protesting Trans Bathroom Laws by Using the Ladies' Room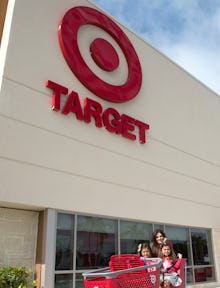 Well this was probably inevitable.
Male activists opposed to transgender bathroom inclusion laws are taking their displeasure all the way to the toilet seat, Jezebel reported.  
So far, the main locus for the brouhaha has been Target. The retailer drew outrage after it unveiled a policy that would allow transgender customers to use whichever bathroom they felt most comfortable. 
"I just came by because I wanted to make sure that I was allowed to use the women's room before I went in," a man identified as Andy asked a Target manager. 
"Yep, that's correct," came the response. The film then cut out.  
REALLY THIS HAPPENED 
This next man brought his camera into the women's room so you could
LISTEN TO HIM PEE!
It's not the first time activists have taken matters into their own hands. Almost immediately following the controversy over North Carolina's new law requiring transgender citizens of the Tar Heel state to use the bathroom corresponding to their birth gender, conservative activists went on offense. James O'Keefe pulled a similar stunt at the University of North Carolina last month.  
"I think there's no question that when you say that there are no barriers in the bathroom, and that if men or women feel like they are men or women, the opposition of however they are equipped, and you have no restrictions, the net effect will be that people will not be stopped," Sandy Rios, director of government affairs at the American Family Association," told Breitbart.
"We already have people testing this, going into Targets and men trying to go into the bathrooms. There is absolutely no barrier."   
Read more: North Carolina Reminds the World After Anti-Trans Law That #WeAreNotThis