Lupita Nyong'o on Why She Chose 'Eclipsed' Over Hollywood Roles in Personal Essay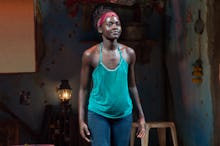 Typically, when an actor is coming off the high of an Oscar win, he or she is showered with big Hollywood roles befit for someone with the industry's highest recognition (think Jennifer Lawrence and Charlize Theron). But Lupita Nyong'o shied away from that trend.
Since winning the Oscar for best supporting actress in 2014 for her role in 12 Years a Slave, Nyong'o has been noticeably absent on the big screen; her most recent work is in voiceover roles in The Jungle Book and Star Wars: The Force Awakens. Instead, she's starred in Danai Gurira's Broadway play, Eclipsed, which she was recently nominated for at the Tonys. 
Nyong'o described her decision to take the role in a new essay, published Tuesday in Lena Dunham's Lenny Letter. In the piece, titled "Why I Chose a 'Small Play' Over the Big Screen," Nyong'o explains how she has dealt with the media questioning why she elected for a role on stage over Hollywood, and how it relates to her being an actress of color.
I think as women, as women of color, as black women, too often we hear about what we "need to do." How we need to behave, what we need to wear, what's deemed as too much or not enough, the cultural politics of what society considers appropriate for us and for our lives. What I am learning is that the most important questions you can ask yourself are "What do I want?" and "Who do I want to become?"
Eclipsed, set during the Liberian Civil War in 2003, is the first Broadway play to feature an all-female cast, director and playwrights. Nyong'o said she was drawn in, too by the prospect of playing a complex female character of color.
The chance to appear in Eclipsed after winning an Oscar was an opportunity to share in the incredible (and too rare) freedom of playing a fully rendered African woman. The playwright, Danai Gurira, has conceived a drama where the only people onstage are women. This allows the audience to be fully immersed in their lives, although the presence of the men around them is deeply felt. So often women of color are relegated to playing simple tropes: the sidekick, the best friend, the noble savage, or the clown. We are confined to being a simple and symbolic peripheral character — one who doesn't have her own journey or emotional landscape.
The heartfelt essay is a powerful dive into Nyong'o's personal sentiments about the play, and sends a resonant message along with it: If you like what you do, you don't need to justify your choice for anyone else.
"I see a work of incredible power that is transforming lives by daring to offer women of color fully rendered narratives, and I feel so lucky to be a part of it," she writes. "I look at this play and see nothing about it that is 'small.'" 
You can check out Nyong'o's full essay on the Lenny Letter here.  
Read more: In the Wake of #OscarsSoWhite, the Tonys Just Proved Themselves So Diverse