Meet Rodrigo Duterte, the Donald Trump of the Philippines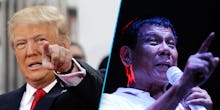 In many ways, GOP frontrunner Donald Trump is singular: When the billionaire businessman first announced his presidential campaign last June, the mainstream media mostly took his bid as a joke. But perhaps unlike any presidential candidate before, Trump has managed to power his campaign with crass comments, penis jokes, schoolyard-caliber insults and blatantly discriminatory policy proposals to create an unstoppable force that could win him the Republican nomination. 
While a number of politicians around the world have condemned Trump and his platforms, there's at least one who's taking notes: the next likely president of the Philippines, Rodrigo Duterte.
The Davao City mayor, who this week became the presumptive president after his rival Mar Roxas dropped out of the race Tuesday, began receiving international attention in April when a YouTube video of Duterte's comments on the 1989 rape and murder of an Australian missionary resurfaced. In it, Duterte laments her tragic death — but says it's a shame he wasn't able to rape her first. 
While outrageous, the remarks were at least somewhat unsurprising considering Duterte's track record. According to Time, he's quipped about his sex life and Viagra use, called Pope Francis a "son of a whore" and joked about dumping corpses in Manila Bay.  
But, like Trump, it's this no-holds-barred attitude that has won him overwhelming support. 
March and April polls showed Duterte as the clear frontrunner in the Philippines' 2016 election, with over 30% of the nation's backing. Duterte managed to edge out his opponent Grace Poe after calling her citizenship into question. Sound familiar? 
Poe, who had to surrender her United States citizenship, had to have her presidential run approved by the Supreme Court of the Philippines. And with less than a week left until May 9th's general election, Duterte continues to maintain a clear lead ahead of her.
Despite the similarities in their campaign trajectories, Duterte denies any kinship with Trump. He told Time last month, "It's one thing to be loudmouth but another to be a bigot."
To be fair, Duterte may not be exactly like Trump. Duterte has proven himself to be worse, outdoing Trump in one respect: Making good on his word. And it's terrifying.
Duterte has pledged to crackdown on crime in the Philippines, where citizens reported 352,321 crimes related to robbery, rape and murder in the first six months of 2015 alone. Known as "The Punisher," Duterte has openly admitted to being a member of a death squad, stating on a local broadcast, "Me? They are saying that I'm part of a death squad? True, that's true."
Supporters weren't deterred when Trump said, "I could stand in the middle of Fifth Avenue and shoot somebody and I wouldn't lose any voters." Had he followed through, it'd be a different story. (Maybe.) Instead, Duterte's ties to the death squad would echo in his strategies to combat crime if he clinched the presidency.
"Me? They are saying that I'm part of a death squad? True, that's true."
"I will use the military and the police to go out and arrest them [criminals], hunt for them and if they offer a violent resistance ... I will simply say, kill them all so we can finish this problem," Duterte said, according to CNBC. Duterte promised to kill five criminals a week until they're entirely eliminated.
However extreme his message, it is resonating with those who are looking for dramatic change in the Philippines — and who believe Duterte's outside-of-the-box, "anti-establishment" strategies could be the solution.
Filipino journalist Nelson Navarro told NBC News, "He could become president because our system has failed and there are enough who see nothing to lose in trying his methods for a change."
Read more: One Statistic Shows Why Hillary Clinton Could Destroy Donald Trump
May 10, 2016, 4:30 p.m. Eastern: This story has been updated.