Jennifer Hudson Had a Jaw-Dropping Response to Her 2016 Tony Awards Snub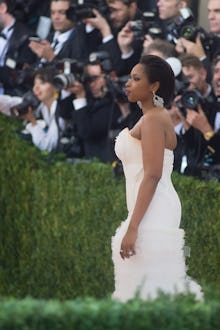 Jennifer Hudson is telling you she's not going ... to be very happy about her Tony snub.
Despite a diverse lineup of nominees for the 2016 Tony Awards, including nominations for The Color Purple stars Cynthia Erivo and Danielle Brooks, Jennifer Hudson didn't receive recognition for her role in the same show. Her response to the snub was shockingly honest, if not brutally so.
Read more: Watch Jennifer Hudson Perform "Push Da Button" From 'The Color Purple' on 'The Late Show'
Responding to a Twitter user's frustration with the snub, Hudson explained in a since-deleted tweet her theory that she was brought on to the show for her "celebrity" versus her "talent." She then said she was "not surprised" by the Tony nominating committee's decision.
Hudson joined the cast of the Color Purple revival as Shug Avery, a brassy star who inspires protagonist Celie (Erivo) to change her life. Previously, Hudson won an Oscar for a musical performance when she played Effie White in the cinematic adaptation of Dreamgirls.
Despite her response, Hudson wasn't the only musical actress of note who failed to earn a nomination Tuesday morning. Audra McDonald, six-time Tony winner, didn't get noticed for her role in Shuffle Along. She tweeted about how things shook out shortly after the nomination announcement, saying she also wasn't surprised she wasn't nominated but was "THRILLED" for those who were.
Allegiance star Lea Salonga joined in, even offering to throw a party.