9 Epic Teachers Who Completely Rocked Their Students' Worlds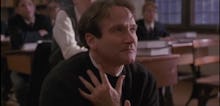 This week is Teacher Appreciation Week — a time to celebrate and honor those dedicated individuals to whom we owe (at least some of) our character and success.
Sure, they introduced us to the ennui of Holden in Catcher in the Rye. Yes, they taught us how to solve for X and read the periodic table. 
But let's be real. The most important lessons didn't come from text books. They were about building our character and trusting our creative spirit. 
Here are nine times when teachers acted as true role models, turning the world a classroom we can all learn from.
And there are many, many more.
Photo credits, in order of images: Facebook, Anshoots Photography, Duyen Ho/The School Lunch Project, Reddit, Tumblr, Twitter, Youtube, Facebook, Twitter