These Holocaust Survivors Finally Got the Bar and Bat Mitzvahs They Never Had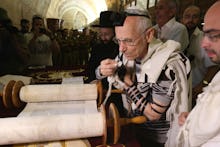 On Monday, 50 Holocaust survivors finally got the chance to participate in a Jewish ritual they had been denied as children.
In a group bar mitzvah and bat mitzvah ceremony, they celebrated the coming-of-age ritual that typically marks the transition from childhood to adulthood, English-language Israeli news site Haaretz reported.
The mass bar and bat mitzvah — or b'nei mitzvot, if you will — took place at Jerusalem's Western Wall, a Jewish holy site.
Held in Nazi concentration camps as children, the participants in Monday's ceremony were denied their chance to partake in the rite of passage when it would normally happen, at the age of 13 (age 12 for girls in some congregations). 
But on Monday, they finally got their opportunity.
Over the past four years, the Western Wall Heritage Foundation has helped a total of more than 1,100 Holocaust survivors celebrate the ceremonies.