Indiana Democratic Primary 2016: Bernie Sanders Upsets Hillary Clinton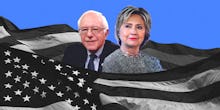 Bernie Sanders isn't dead yet.
The Vermont senator upset Democratic presidential frontrunner Hillary Clinton in the Indiana primary on Tuesday, overcoming the former secretary of state's modest but durable lead in the polls and delivering her a small speed-bump on her path to the party's nomination.
The Associated Press called the race for Sanders at 9:23 p.m.
Heading into Tuesday's balloting, Clinton led Sanders 2,165 delegates to 1,357, meaning she needed to win less than 18% of the remaining delegates up for grabs to secure the 2,383 delegates required to clinch the nomination. With 83 pledged delegates at stake in the Hoosier State, Sanders' win on Tuesday attests to the continued resonance of his progressive platform but does not upend the fundamental dynamics of the race.
Read more: Hillary Clinton Beats Bernie Sanders in April Fundraising Race
Clinton still on track: Though Sanders' victories over Clinton in a series of Western and Midwestern nominating contests in March underscored her persistent weaknesses with some elements of the Democratic coalition, the frontrunner assuaged doubts about her bid with her double-digit romp of Sanders in the New York primary on April 19. Winning four of five mid-Atlantic primary contests one week later, Clinton further cemented the conventional wisdom that the odds confronting Sanders had gone from long to virtually forbidding.
Still, Sanders hoped that his message of combatting income inequality and opposing free trade agreements would break through in Indiana, a Rust Belt state accustomed to the vagaries of globalization and economic change That message appears to have resonated in the state, eight years after she narrowly defeated then-Sen. Barack Obama in the Hoosier State primary.
The final stretch: With just more than one month before the California primary brings an end to the primary contests on June 7, Clinton is likely to lose a few more states to Sanders, even as she remains on track to accept the Democratic nod at the Philadelphia convention in July.
Indeed, Sanders may win each of the next three contests. A Public Policy Polling survey on Tuesday gave Sanders a 45% to 37% lead in West Virginia, where voters head to the polls on May 10, and a win in that Appalachian state would be a good sign for his chances in Kentucky, which votes one week later. The May 17 Oregon primary and the June 7 primaries in Montana, North Dakota and South Dakota should also prove fertile ground for Sanders, based on his demographic and regional support to date.