Are You Trying to Get 'Hamilton' Tickets? It Just Got Even Harder — Here's Why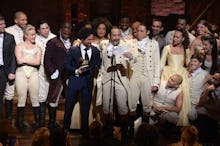 If you thought getting tickets to the blockbuster Broadway musical Hamilton was hard before Tony nominees were announced on Tuesday, it's now near-impossible: The show has shattered yet another show-business record.
Hamilton cleaned up with a total of 16 nominations, breaking a record previously shared by Billy Elliot and The Producers, which had each received 15 total Tony nominations. "It's unbelievable — it's absolutely humbling and incredible," Hamilton creator and star Lin-Manuel Miranda told the Times. "What I'm really thrilled about is that the nominators spread the wealth among our amazing troupe of actors and our amazing design team."
The slew of Tony nominations has done nothing to make it easier to get tickets for Hamilton. Resale tickets were available for an upcoming May performance were available as of this writing — but only if you had between $548 and $2,854 to spend per ticket.
But the Tony nominations are just the latest in a string of accolades that have helped make Hamilton one of the most talked about Broadway musicals in, well, ever — all of which have made it practically impossible for any normal human to score tickets.
The show, based loosely on Ron Chernow's biography of Alexander Hamilton, has been a sensation ever since it first opened on Broadway in August 2015. Deadline called it "the quintessence of a Broadway musical destined for the record books." Variety wrote that its "universal appeal to crossover audiences is one unmistakable sign of a groundbreaking show" and the Los Angeles Times called it "an artistic watershed."
In his superlative-heavy review of the show's Broadway opening, New York Times theater critic Ben Brantley wrote that getting tickets to Hamilton "might just be worth" mortgaging homes and leasing children.
Much of the show's buzz came from the radical elements of its storytelling. Recasting the founding fathers as people of color and telling their stories though hip-hop allowed for an empowering reclamation of a classic national story that usually excludes people of color. 
The show's many nods to hip-hop's evolution, musical theater and U.S. history gave it crossover appeal among nerds of all kinds. The Los Angeles Times called it "the most important American musical to come along since Rent." Hamilton would soon shake up the musical-theater genre much like Rent made rock musicals acceptable in contemporary Broadway.
It seems like almost every important celebrity has stopped by the Richard Rodgers Theatre to see Hamilton and hang with the cast backstage, from Beyoncé and Jay Z to Kanye and Kim to, well, basically every other celeb you care about and some you don't.
Entering, and subsequently losing, the daily Hamilton digital ticket lottery has also become somewhat of an addiction for the show's fans. The frenzy for tickets, and the legion of disappointed fans, has also spawned a tradition, the regular #Ham4Ham performances from the cast (and sometimes featuring surprise guests).
The hype has only increased exponentially since the show debuted. Back in November, the Hamilton soundtrack became "the highest debuting cast recording on the Billboard Top 200 in over 50 years," as AP reported. In February, Hamilton performed live at the Grammys and took home a win for best musical theater album. And just last month, Lin-Manuel Miranda was awarded the Pulitzer Prize for drama.
Hamilton even took the party to the White House, performing some songs in the East Room and pairing up Miranda and President Obama for an epic freestyling challenge. The show may have even saved Alexander Hamilton's place on the $10 bill.
With the Tonys coming up in June, it's unlikely that the Hamilton frenzy will die down anytime soon, but with touring companies reportedly starting up in several cities across the country, it may soon be easier to see at least some version the show closer to home.
One thing's for sure, however: Anyone who tunes into the upcoming Tony Awards show, or, as Andrew Lloyd Webber is apparently calling them, the "HamilTonys," will get a pretty big helping of Hamilton — which, frankly, may be as close as you're gonna get to the real thing.