2016 Indiana Primary Results: Live Updates on the Democratic and Republican Races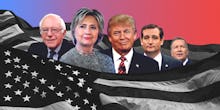 Can the frontrunners seal the deal?
That's the question at the heart of Tuesday's Indiana primary, in which Democrat Hillary Clinton and Republican Donald Trump hope to parlay their recent string of victories in crucial Northeastern contests into resounding wins that cement their positions atop the two parties' presidential fields.
But with Ted Cruz mounting what even close allies acknowledge is an effective last stand against Trump and Bernie Sanders hoping to woo voters with an inequality-focused pitch, Trump and Clinton faced spirited challenges ahead of the Hoosier State vote.
Follow along as Mic keeps tabs on all the evening's latest developments. All times are Eastern. Polls close at 7 p.m.
9:34 p.m.: Trump praises Cruz while declaring victory.
Goodbye, "Lyin' Ted."
After vanquishing Cruz, Trump sounded a conciliatory note in his Trump Tower victory speech, saying Cruz "has got an amazing future" and praising his political chops.
"I have met some of the most incredible competitors that I have ever competed against," he said, calling Cruz "one hell of a competitor."
Trump's mission: To convince members of the Cruz Crew to coalesce behind his candidacy.
"We want to bring unity to the Republican Party," Trump said later. "It's so much easier if we have it." — Luke Brinker
9:24 p.m.: Sanders takes Indiana as Trump is speaking.
Sanders will prevail in the Hoosier State, according to the AP, who called the race at 9:23. — Stefan Becket
9:14 p.m.: Watch Trump's victory speech, live from Trump Tower.
9:07 p.m.: He fixed it. So now it's official!
9:00 p.m.: Trump is your presumptive Republican nominee (or "presumtive").
So says Reince Priebus, chairman of the Republican National Committee, who is only human and also makes typos. — Stefan Becket
8:56 p.m.: Meanwhile, on the Democratic side...
Clinton and Sanders are locked in a very tight race, with Sanders maintaining a narrow lead of about six points with 63% of precincts reporting.
Exit polls show Sanders won men 60% to 40%, and beat Clinton among women 52% to 48%.
Sanders did predictably well among young voters, defeating Clinton with voters between the ages of 17 and 44 years old, 68% to 32%. Clinton edged out Sanders among the older set, voters 45 and older, 56% to 44%.
Sanders was much more popular among white voters, winning them 62% to 38%. But Clinton trounced Sanders among black voters, who made up close to a fifth of the Democratic electorate voting Tuesday night, 74% to 26%.
Sanders' edge among women, and the narrow lead that Clinton held over Sanders among older voters, bodes well for Sanders. — Zeeshan Aleem
8:52 p.m.: Kasich reacts to Cruz dropping out.
Kasich, who is still in the race, issued congratulations to Cruz, praising his "strong and disciplined campaign." — Stefan Becket
8:40 p.m. Cruz suspends his campaign, making Trump the presumptive nominee.
That's that.
Flanked by his family with his campaign staff in attendance, Cruz spoke in Indianapolis and announced he was dropping out. His drumming in the Indiana primary dashed almost any hopes of preventing Trump from reaching the majority of pledged delegates, and Cruz looked defeated as he thanked his family and supporters before laying out a vision of the future that will position him well in 2020.
"The pundits all said it was hopeless," Cruz said, announcing he had given up hope.
"Tonight, I am sorry to say, the path [to victory] has been foreclosed," Cruz said. "We gave it everything we've got, but the voters chose another path.
"And so with a heavy heart, but with boundless optimism for the long-term future of our nation, we are suspending our campaign," Cruz said. "But hear me now — I am not suspending our fight for liberty." — Stefan Becket
8:26 p.m. It's over — Cruz is dropping out.
As Carly Fiorina introduced Cruz, Patrick Svitek of the Texas Tribune broke the news that he's dropping out:
8:20 p.m.: The Trump campaign revels in victory from headquarters.
TRUMP TOWER — An upbeat Corey Lewandowski told reporters gathered at Trump Tower that after the big win in Indiana, the campaign isn't fiddling with worries about delegate counts ahead of a possibly contested convention.
"With all due respect, we're going for a first-round knockout," he said in the building's marble lobby.
Lewandowski said the campaign would next move on to West Virginia and Nebraska, continuing to build momentum and delegate support in the march to 1,237.
As for why the resistance movement hit a wall in Indiana, he said, "The #NeverTrump movement has failed because they don't fundamentally understand that the American people are sick of a broken Washington."
Despite the day's volley of insults between the Trump and Cruz camps, Lewandowski promised his candidate would ultimately unite the GOP against Hillary Clinton.
He also said Team Trump hadn't discussed VP picks yet, despite news reports to the contrary, and remained committed to self-funding through the primary. — Celeste Katz
8:12 p.m.: Sanders may win, but the math remains forbidding.
With Sanders holding a narrow edge over Clinton, an Indiana upset isn't out of the question — but as statistics wizard Nate Silver points out, overtaking Clinton's delegate lead will require crushing landslides in the remaining contests. — Luke Brinker
7:30 p.m. Follow live results as they come in.
Courtesy of Graphiq, here's a map of the latest returns. — Luke Brinker
7:25 p.m.: Kasich vows to remain in the race.
Running a distant third in Indiana, Ohio Gov. John Kasich, who has won only his home state primary, says he won't be going away.
In a statement on Tuesday evening, Kasich strategist John Weaver said the candidate would remain in the race as long as no candidate entered the Cleveland convention in July with a 1,237-delegate majority.
"Tonight's results are not going to alter Gov. Kasich's campaign plans. Our strategy has been and continues to be one that involves winning the nomination at an open convention," Weaver said.
But with Trump securing at least 1,041 delegates already, the chances of holding him below 1,237 are diminishing fast. — Luke Brinker
7:08 p.m.: Trump reacts to his victory with shots at Cruz.
Within minutes of winning the Hoosier State, Trump unleashed a torrent of attacks on Cruz, who had himself gone scorched-earth on the frontrunner during a mid-day press conference. — Luke Brinker
7:00 p.m.: Trump wins.
And there it is. The AP called the race for Trump when the final polls closed. Read more here. — Luke Brinker
6:55 p.m.: Exits look good for Trump and Sanders.
Though pre-primary polling showed Clinton edging Sanders, early exits show the Vermont senator with some key advantages over the former secretary of state — though those exits may not be indicative of the final outcome.
According to a preliminary analysis from ABC News, the Indiana Democratic electorate was whiter than average — a good sign for Sanders, who has lagged Clinton badly among minority voters. Six in 10 voters said they found Sanders the more inspiring candidate, meanwhile, and voters also saw him as more honest and trustworthy.
On the GOP side, ABC found, Trump is likely to benefit from voters' hunger for an outsider candidate. — Luke Brinker