Yes, Virtual Reality Has a Sexual Harassment Problem. What Can We Do to Stop It?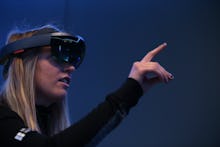 A stranger, dressed in a semen-stained clown suit, enters the virtual room. He forces one user to eat their own pubic hair. He makes another violate herself with kitchen cutlery. He laughs. The sadism continues until someone finally figures out how to block him.
In the early '90s, virtual reality was far from the point where you could walk around and interact with objects and fellow users around you. VR was limited to MUDs, or multi-user dimensions, whole worlds created out of an enormous library of keystroke commands people could use to bring scenes to life. With unlimited potential, shit could get chaotic.
The infamous scene above took place in one of these MUDs. It was detailed by journalist Julian Dibbell in his 1993 essay "A Rape in Cyberspace." For the users targeted by the stranger and those who witnessed the assault, it was a traumatizing experience. 
"Where before I'd found it hard to take virtual rape seriously, I now was finding it difficult to remember how I could ever not have taken it seriously," Dibbell wrote.
Twenty-three years later, virtual reality has turned into a wholly immersive, physical, full-body experience. Avatars of our bodies, not just our online personas, can gesture, talk and roam around in vivid, hyperrealistic worlds. 
And as virtual reality gets more physical, so does the harassment. 
Virtual reality has a sexual harassment problem
"A man turned to me in virtual reality and aggressively rubbed his chest with his hands, while remarking over the voice chat, 'Look at me! I'm rubbing my tits at you!'" 
This is Renee Gittins, CEO of video game company Stumbling Cat, who wrote about being harassed in virtual reality on the blog Broken Joysticks. "I froze," she said. "The only response I could muster was letting out a small, insincere 'heh' laugh."
"I was startled by my experience and the effect it had on me," Gittins told me in an email. "As a woman who has been gaming online for over a decade, I figured myself pretty immune to harassment in games ... I didn't really think about what my experiences could be like in virtual reality."
Women are harassed across the whole digital ecosystem. About one in five people have witnessed someone being sexually harassed online, according to a Pew Research Center survey from 2014, and 6% have been sexually harassed online. With 12% of Americans planning to buy a virtual reality headset in the next six months, according to App Goodies, abuse in this new medium is something to be concerned about. 
"The worst part about harassment in virtual reality is the depths that it can go to," Gittins told me. "With the sense of 'presence' in VR, a person can invade your personal space and grope you in a way that you truly feel is real and creates a visceral reaction."
"When you get up in someone's 'bubble' in VR, you really feel like that's happening," virtual reality design researcher Eva Hoerth told me in a shared Slack room for VR enthusiasts. "In a game like [League of Legends], you're not as directly affected by body language."
So even if you can't technically "feel" it, is it harassment if someone uses his virtual hands to grab at your virtual chest? "Definitely," Hoerth said. 
In VR, the boys run the playground
In a YouTube clip demonstrating AltspaceVR — a computer-simulated environment in which users can socially interact — video game critic Jed Whitaker, using a female avatar, wanders around a room and approaches two other users. "Hello. You like it?" he says, then thrusts his avatar's crotch into their faces. "That's my body," he says. "I'm a pretty lady."
Or take this photo, posted on Imgur, of a female avatar cornered in a virtual room. Another user's controller is pointed into her crotch.  
Software developer Andrew Matecha said in a Slack message that he routinely sees interactions like this in virtual reality. When women join virtual spaces, he said, they're often the only female bodies in the room — and male users respond by swarming around them.
Matecha described "countless awkward situations" involving female avatars in just a few hours inside a virtual reality room. One user approached a female avatar and said, "Haha, you have boobs!" Some users even groped the 3-D models. Another joked that the Vive controller was like a vibrator, then shook the thing around his crotch area. 
Women are more skeptical of VR than men. No wonder.
According to a survey, 82% of men are enthusiastic about virtual reality's positive potential compared to 69% of women, the Memo reported. It also revealed that 47% of women are worried about how virtual reality will effect family and mental health compared to 39% of men. 
"This gender imbalance is going to be a big challenge for the VR industry over the next few years, to understand this disparity and tackle it head-on," Rick Chapman, high-tech sector specialist at Invest Bristol & Bath, the company behind the survey, told the Memo.
Gittens is adamant about the need for change: "Harassment has to be nipped in the bud in this medium where it can have such a strong effect."
So how do we accomplish that? 
We need to establish an ethical code of conduct around virtual reality
Even to video game veterans like Gittens and Whitaker, virtual reality is a completely new and palpable medium to learn to navigate — and it's emotional. VR is now mostly inundated with early adopters, but could soon be flooded with many more users who'd have a new harassment tool at their literal fingertips. 
I spoke to AltspaceVR, a pioneer in the social VR space, regarding some of its users coming out with tales of harassment in the space, as Fusion recently reported. 
Defamation, harassment, intolerance, cyberbullying and lewd or unwanted advances go against AltspaceVR community standards, resulting in the suspension or termination of a user account — but the team agrees that new features will need to be persistently considered.
"I think we've done more than anybody in this space by making interacting with people you don't know in virtual spaces safe and comfortable," CEO Eric Romo said in a phone call. "That being said, this is a brand-new medium. We agree that our existing feature set needs to be constantly reevaluated. To make it a safer and safer space." 
For men, empathy matters
The developers, researchers and gamers I spoke with all had mostly positive things to say about virtual reality. They talked about the excitement of being able to wave at, hug and high-five the other users. Romo also discussed the "positive uplifting feeling" of a closeness you feel in virtual reality that is unlike any other digital medium.
Perhaps this feeling of togetherness can translate into a more positive experience. Maybe the first step is empathy — the recognition that the avatar next to you is also human. What may feel like a joke to someone in their living room might feel like an unwanted sexual interaction for the receiving end hundreds of miles away. 
I messaged Jed Whitaker on Twitter about his humping incident on YouTube. After rewatching it, he told me, "I can see how that could be seen as harassment, and in hindsight it wasn't the best action for me to take, be it with them hearing me or not." 
He added, "I'm outspoken for feminism, safe [spaces] and LGBTQIA rights and disappointed that this happened." 
Whitaker has, in fact, been outspoken about the need to curb harassment in gaming. "We need safe spaces, not just from hateful messages, but emotes and assholes humping your corpse," he wrote in Destructoid in December 2015.
There's no such thing as a public digital space void of online abuse. Where there is internet, there will be trolls. But as more and more users flood this new, visceral medium, they need to know what's acceptable and what's harassment. 
As Whitaker himself tweeted, "Developers really do need to consider the safety of users with options to prevent harassment."