Ted Cruz Ends Bid for GOP Presidential Nomination Following Loss in Indiana Primary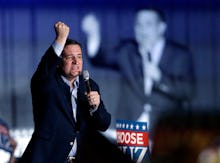 The Cruz ship has sunk.
Ted Cruz ended his bid for the Republican presidential nomination on Tuesday, following a landslide defeat to frontrunner Donald Trump in the do-or-die Indiana primary.
Speaking to supporters in Indianapolis, Cruz lauded his backers as "incredible patriots who have fought so hard to save our nation." But he said he did not see a viable path to the nomination.
"Tonight, I'm sorry to say it appears that path has been foreclosed. Together, we left it all on the field in Indiana. We gave it everything we've got," Cruz said. "But the voters chose another path. And so with a heavy heart, but with boundless optimism for the long-term future of our nation, we are suspending our campaign."
The Texas senator hoped that Indiana's high concentration of religious conservatives would propel him to victory over the Manhattan billionaire, but Trump's populist pitch won out in a state hard hit by globalization and international trade.
Cruz's withdrawal comes following seven consecutive losses to Trump, who steamrolled over Cruz and Ohio Gov. John Kasich in a series of Northeastern primaries, starting with New York on April 19.
But deep fissures remain in the GOP, as Cruz and running mate Carly Fiorina underscored on Tuesday night.
"This is a man who favors substance over sloganeering, who favors respect over insult, who favors positive policy solutions that will actually work over hand-waving," Fiorina, who joined the Cruz ticket just last week, said in introducing the candidate.
Cruz echoed Fiorina's implicit jabs at Trump in his paean to the American spirit, declaring, "We are not boastful or mean-spirited."
But with Trump less than 200 delegates short of the 1,237 delegates needed to capture the GOP nod and his chief adversary now out of the race, his nomination is all but a foregone conclusion, leaving his intra-party foes to confront the choice between holding their noses and backing his candidacy or effectively ceding the election to likely Democratic nominee Hillary Clinton.