#WhitewashedOUT Hashtag Condemns Hollywood Whitewashing of Asian Roles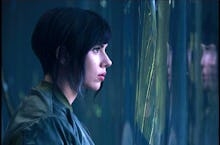 The recent controversial casting choices for Doctor Strange, Ghost in the Shell and Iron Fist — all originally Asian characters which white actors were cast for — has drawn the ire of Asian and Asian-American celebrities, not least among them Star Trek star George Takei. Now, there's a hashtag that's working as the rallying cry for the industry's lack of roles for Asian actors: #WhitewashedOUT. 
Coined by Asian-American author Ellen Oh and Keith Chow on the website Nerds of Color, which Chow founded, the hashtag was started to coincide with the beginning of Asian-Pacific-American Heritage Month. The post read,
When several consecutive films debut or are announced featuring whitewashed characters, it is time to say "enough is enough," because there already isn't enough Asian representation in films to begin with, we cannot allow the few roles that do exist go to white actors. We're tired of Hollywood acting as though Asian-Americans don't exist, and want to let them know that we aren't watching these whitewashed movies.
Since the hashtag was launched on Tuesday, tweets have been rolling in from Asian-Americans sharing the impact this has had on their lives, and pointing to the propensity to whitewash Asian characters in pop culture
Similar to Takei's condemnation of Doctor Strange, the hashtag aimed to create more awareness for the issue. After all, considering all the whitewashed roles that were recently doled out, it's clear many in Hollywood aren't getting the message. 
Read more: George Takei Weighs in on Marvel's Casting of Tilda Swinton in 'Doctor Strange'