Samantha Bee, Not Donald Trump, May Have Just Won the Republican Primary Race in 1 Tweet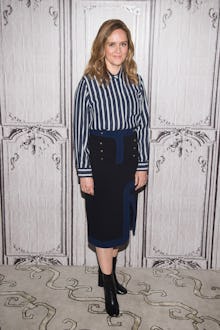 Truth bomb — The true successor to Jon Stewart is Samantha Bee.
The comedian and host of the TBS show Full Frontal With Samantha Bee reminded us all of this fact yet again after dropping what was probably the pithiest and and most cutting tweet of the 2016 Republican presidential primary race, linking the carcass of the Ted Cruz campaign to the candidate's strident opposition to abortion.
"Shouldn't #TedCruz have been forced to carry his unviable campaign to term?" she asked. 
The tweet immediately went viral generating more than 20,000 retweets in mere hours after it was posted and underscored the continuing difficulty Cruz and other Republican candidates have had with the issue of abortion. 
The most recent Ex-GOP candidate was opposed to abortion even in cases of rape or incest and had promised supporters a full-scale defunding of Planned Parenthood if elected. The now presumptive Republican nominee, Donald Trump, has also stumbled, originally arguing that women who underwent abortions should face "some form of punishment" — before clarifying his remarks later.
With Donald Trump and Hillary Clinton now their likely party nominees, the 2016 general election is gearing up to be both historic — and brutal. 
Read more: 'Full Frontal With Samantha Bee' Tackles Untested Rape Kits and Local Politics