Seth Meyers Just Tore Into the Detroit Schools for Failing to Pay Its Teachers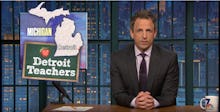 Seth Meyers took on Detroit's public schools on Tuesday's episode of Late Night, standing behind the teachers' latest sick-out. 
The Detroit public school system has projected its funds will bottom out on June 30, and as a result, has told teachers who have opted to have their paychecks spread out over 12 months (rather than only during the months when school is in session) will not receive checks during the summer. What's more, the sudden dearth of money is a mystery: Roughly $30 million effectively disappeared from the district's funds without explanation.
Read more: Sanders Lets Off Some Steam With Seth Meyers for a Special Edition Of "Ya Bernt"
"It's not even clear what happened to that money that was supposed to go to teacher salaries," Meyers says. "How do you make $30 million dollars disappear? Did you finance a Johnny Depp movie?" 
The show cuts to clips of teachers explaining their grievances. "What profession works for free?" asks one teacher.
"We shouldn't be forcing people to work for free!" Meyers says. "They're not college basketball players. But this illustrates a broader problem about how we think about education in this country. We often expect teachers to work for less and in worse conditions than we would expect for ourselves. We think of teachers almost like volunteers." 
"The bottom line is this," the host concludes. "Teachers deserve to be paid more, but if for some reason we can't manage that, let's at least agree to pay them for the work they've already done." 
Check out the full segment below: