These Men Mow Lawns for Those Who Can't, and Are Raising Young Boys to Do the Same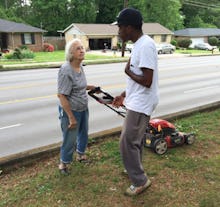 After seeing his elderly neighbor unable to cut his own grass, Rodney Powers Jr. said he knew he could help as an able college student and immediately got to work. Shortly after, he set a goal for himself to cut 40 lawns for his neighborhood's elderly and disabled residents and single mothers, inspired in part by his father's love of building homes for others.
But his community activism didn't stop there — in fact, after the Bermuda native cut 100 lawns for free in just two months, he created a Huntsville, Alabama lawn service called Raising Men Lawn Care Service. Now he enlists the help of boys throughout the community to go from one home to the next, mowing lawns for those unable to do so. 
"By the fifth [lawn], they're happy! 'Let's go,' they're calling us up saying, 'can we go cut this week?'" Powers said in an interview with engine industrial company Briggs & Stratton. "I want boys to follow my footsteps, and be better than me, and give back."
Though Powers has been busy finishing up his studies at Alabama's Agriculture and Mechanical University, he hasn't put aside his flourishing lawn service. Briggs & Stratton supplied the service a transportable lawn mower and other equipment after featuring the service for its You.Powered initiative. His GoFundMe goal of $2,000 for the lawn service has also been met, and the student is continuing to recruit young men throughout his community to join the project. 
A look at Raising Men Lawn Care Service's shows just some of the lives they've touched:
Read more: This Mom Just Opened a Cafe for Breastfeeding Women