In Viral Post, Elizabeth Warren Rips Trump's "Toxic Stew of Hatred and Insecurity"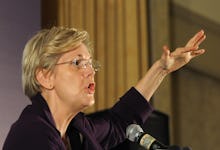 Welcome to the morning after.
Donald Trump served Ted Cruz another steaming platter of defeat in Tuesday's Indiana primary, forcing the Texas senator out of the race for president — and firing up Democrats like Elizabeth Warren, who says she'll "fight [her] heart out" to keep him from the Oval Office.
Read more: We Asked a Psychologist Whether Donald Trump Is a Pathological Liar
In a blistering Facebook post that illustrates just how deadly real the Trump phenomenon has become to Warren's party, the Massachusetts senator railed against the presumptive GOP nominee and vowed to put everything she's got into stopping him.
"Trump has built his campaign on racism, sexism, and xenophobia. There's more enthusiasm for him among leaders of the KKK than leaders of the political party he now controls," wrote Warren, who's no stranger to anti-Trump tirades.
"He incites supporters to violence, praises [Russian President Vladimir] Putin, and, according to a columnist who recently interviewed him, is 'cool with being called an authoritarian' and doesn't mind associations with history's worst dictators."
Warren, a strong voice in the left flank of the Democratic Party who's been talked up as a possible vice presidential pick, evoked the Democrats' "battle-for-the-soul-of-our-country" call, as the cycle continues with Trump all but guaranteed the captaincy of the GOP.
"What happens next will test the character for all of us – Republican, Democrat and Independent," she warned in a clarion call to the broad array of voters needed to capture the White House after the primary dust settles.
A Trump spokeswoman didn't immediately respond to a request for comment on Warren's withering post.
Democratic frontrunner Hillary Clinton lost Indiana to Bernie Sanders in an upset on Tuesday, but she's still firmly on track to become the Democratic nominee.
And while the former secretary of state leads in hypothetical general election match-ups, Trump, as the dizzying primary cycle has shown, simply cannot be underestimated.
It's a long road to November.