Maria From 'Sesame Street' Just Delivered a Powerful Message to Young Latinos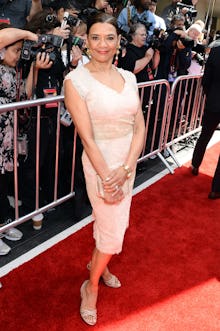 While attending the Daytime Emmys ceremony on Sunday to receive a Lifetime Achievement Award, Sonia Manzano, also known as "Maria" on Sesame Street, told Latinos aching to join show business to get behind the camera. 
"If you're in show business, get behind the camera," Manzano, who played Maria from 1971 to 2015, told Buzzfeed. "I learned early on at Sesame Street that all the power laid with the producers and the writers — they really make the impact of what you see on the air. So I really made it my business to become a writer as soon as I possibly could."
Manzano also had advice for all Latinos: Be a sharp thinker.
She spoke briefly about Latinos and politics, as well. Given the importance of the Latino vote — especially the millennial Latino vote —  Manzano's words resonate. She encouraged Latinos to embrace pragmatism and think critically.  
"You can't change people's minds, but you can change laws," she said. "It's easier and more pragmatic to change laws. That means being up on politics and being up on what's happening and reading the paper and reacting with intellect, not emotion. Being a critical thinker is the way to go about it."
In the time of #OscarsSoWhite, Manzano's statement resonates for those looking to increase media diversity. But her words don't speak as loud as her award-winning career as an actress and a writer. 
"Sonia not only brought the life events of marriage, having a baby, and being a mother to viewers young and old, she also brought a seldom-seen diversity, a Latin role-model, unlike anything on television at the time," said Bob Mauro, president of the National Academy of Television Arts and Sciences, in a statement.