This Mom Just Took Down Anyone Judging Her Son for Playing With "Girly" Toys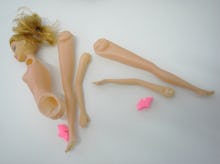 In mainstream society, the phrase "boys will be boys" can absolve little boys of almost everything. Everything, that is, except for playing with "girl toys."
Last week, Rheann MacLaren brought her 3-year-old son to a toy store and let him pick out whatever he wanted. When he started playing with a pink doll stroller, MacLaren didn't have a second thought — but another customer felt the need to pipe up with their two cents. 
According to MacLaren's Facebook post describing the incident, the customer said to her son, "'Oh you don't want that, it's just for girls, not boys! It's all pink and girly. There's cars and dinosaurs over there, why would you want that girly thing?!'"
Read more: This Dad Shut Down Trolls Who Harassed His Son for His Kitchen Playset
MacLaren said she was about to tell off the customer for being critical of her son, but he beat her to the punch. "'Cause I like it," the 3-year-old said simply. And, MacLaren emphasized in her post, it should be as simple as that. She said that while her son likes typical "boy" things like dinosaurs, monsters and playing in the mud, he also likes dolls and playing in his toy kitchen — and it's no big deal.
Stores like Target have taken cues from parents like MacLaren and their children, eliminating gendered advertising for toy sections, deeming it "unnecessary." Many more toy retailers are also rethinking how they brand their products, and have taken strides in showing children of all genders enjoying toys that were once considered strictly for boys or girls.
MacLaren said she doesn't want to limit her son, who left the store thrilled with his new pink doll stroller: "My child will grow up a well-rounded, accepting boy who will NEVER feel pressured to conform to gender stereotypes."
h/t ABC News