Patton Oswalt Just Penned a Heartbreaking Tribute to His Late Wife Michelle McNamara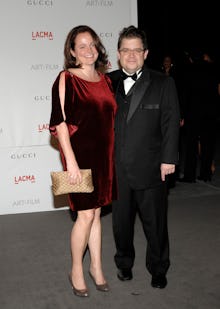 Comedian and actor Patton Oswalt has written a touching tribute to his late wife Michelle McNamara, who passed away at the age of 46 last April.
In an obituary for Time this week, he highlighted the grave impact that McNamara's passing has had on her family and friends:
The reaction to her passing, the people who are shocked at her senseless absence, is a testament to how she steered her life with joyous, wicked curiosity. Cops and comedians call—speechless or sending curt regards. Her family is devastated but can't help remember all of the times she made them laugh or comforted them, and they smile and laugh themselves. She hasn't left a void. She's left a blast crater.
McNamara was a true crime author in the midst of an in-depth book project on the Golden State Killer when she died in her sleep unexpectedly on April 21.
In his piece, Oswalt detailed McNamara's passion for writing true crime, from her blog to her reporting in Los Angeles Magazine. But of her career successes, he writes, "Those are facts but not her entire story."
Her life also involved social work in Belfast and Oakland, and screenwriting in Los Angeles, and teaching creative writing at Minnesota State, and motherhood and marriage and glorious, lost years on the outskirts of the early 90s Chicago music scene, where she also worked for a young Michelle Obama. One day Michelle Obama's husband came into the office to speak to the staff. He was impressive and funny. Another encounter, another memory in a life spent fascinated with people and relationships and the unknown.
Oswalt wraps up his emotional tribute by quoting the couple's seven-year-old daughter Alice, who wisely told her father that "when your mom dies you're the best memory of her. Everything you do is a memory of her."
h/t Time