9 Powerful Images Capture the Ravaging Wildfire That Evacuated an Entire Town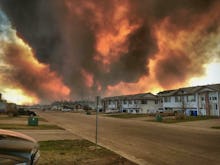 A wildfire in the central Canadian city of Fort McMurray, Alberta, that forced an entire town of 80,000 people to evacuate last week had grown to half the size of Rhode Island by Monday, CNN reported.
The blaze has destroyed at least 80% of one neighborhood's homes — at least 1,600 structures.
The fumes have been spotted from Florida and by astronauts in space.
Not sure where this city is? Check it out on Google Maps.
Images credited to the Associated Press and Twitter users @radman1000 and @hollerslyfe.