Misty Copeland Made Sure the Barbie Inspired by Her Had a Very Specific Body Type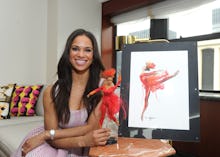 Yes, Misty Copeland has a Barbie made in her image now — but the patriarchy hasn't imploded, and racial equality still isn't a thing.
That's part of why the 33-year-old #BlackExcellence ambassador — the first black female principal dancer in the history of the American Ballet Theater — gave very specific directions for how her Barbie should look.
First, she wanted the doll to have "muscles."
Copeland explained her vision for the Barbie in an interview with the Huffington Post. 
"Muscles," she said, when asked which features she wanted the designers to emphasize. "That's so much a part of me. And something I've been criticized for and celebrated for. It's OK to be strong, and you can still be feminine. Dancers are athletes. Why try and hide that feature?"
She also wanted the Barbie to have curves and fuller facial features.
"They sent me many prototypes and I got to say, 'Change this, make her boobs bigger,'" Copeland said. "Even her facial features, I wanted her nose to really mimic mine and not be as narrow as Barbie's and have fuller lips. The shape of her eyes, the hair color, everything. So it was definitely collaborative."
These are small but important changes.
The typical Barbie doll has long been criticized for promoting an unrealistic standard of beauty, rooted in a very specific white, blonde ideal and rail-thin body that — if translated onto a real woman — would be anatomically impossible.
But in recent years, Mattel — the company that makes Barbie — has ventured into more diverse designs. They recently made a doll based on Ava DuVernay, the filmmaker who directed Selma, and introduced three new body type designs in January: "tall," "petite" and "curvy."
Copeland is an ideal ambassador for this new shift in thinking.
The dancer has long faced criticism for her body type, and her ability to overcome that is part of what's made her a role model for so many young girls and aspiring dancers.
"It's changing this generation's mindset and views of what's possible for them," she told the Huffington Post, concerning Barbies that reflect diverse bodies. "The power of imagery is so strong for young people, and that's so much a part of what I speak about. The power of being able to see yourself represented in different spaces means so much for the growth of a young child, to be able to think they can be anything."
h/t Huffington Post