Chrissy Teigen Just Got Real About Her Powerful Post-Pregnancy Breasts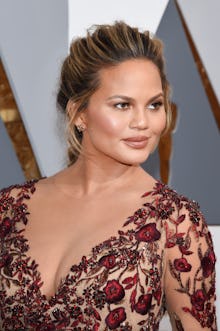 At this point, model Chrissy Teigen may as well be social media's official spokesperson for postpartum bodies. In the weeks since giving birth to her daughter, Luna, in April, Teigen's spoken out about having to wear diapers home from the hospital, perineal irritation and her newly blemished skin. 
Now, she's talking about her post-pregnancy breasts, and their indisputable strength. 
On Saturday, Teigen and her husband, John Legend, attended a birthday party for Jessica Alba, as any good Hollywood insiders would do. 
But later in the night, with Teigen wearing a black satin and lace dress, her breasts, which fluctuate in size because she is breastfeeding, refused to be contained, and she suffered a bit of what we call a "wardrobe malfunction."
Read more: Chrissy Teigen's Makeup-Free Selfie Speaks the Truth About Post-Pregnancy Skin
Of course, the candid star took to Snapchat to talk about it. 
"My expanding bust incredible hulked this dress in one night," she wrote, showing off the ripped lace across her bust. 
With Teigen already happily becoming the face of honest and outspoken new moms everywhere, her letting us all in on the unglamorous life of having ginormous breasts should come as no surprise. 
Just days later on Twitter, she called herself (jokingly), "a 5'9" walking boob." 
(Same, Chrissy. Same.) 
Although the attention on her pregnancy and post-pregnancy activities has drawn criticism, like when people thought it was too soon to go outside because we apparently live in 1778, she is one of the few celebrities letting us all know that pregnancy isn't exactly pretty. It's not some ethereal process our bodies bounce right back from, as some celebrities led us to believe. 
So because of Teigen, we now know not just how powerful our breasts may become, but that it's probably a good idea to avoid lace until the power of our breasts is more manageable. 
Good to know.