A Teenager Invented a Better and Cheaper Way to Grow Hundreds of Mini-Brains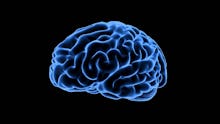 A 16-year-old just built a bioreactor for mini-brains that will aid in Zika virus research. What have you done today?
Christopher Hadiono and his team of fellow high school students developed the replicator — Spin? — using 3-D printing, which makes it a more affordable option than other devices in the market, Futurism reported. 
A mini-brain isn't a half-baked human-sized brain or a human brain shrunk down to itty-bitty proportions — a mini-brain is a lab-grown organ from human stem cells. The Spin? bioreactor spins the liquid and the cells within it at "just the right speed" to form the pinhead-sized mini-brains, a news release stated. 
In less than four months, the Spin? had already grown mini-brains to examine. According to the news release, researchers said these mini-brains are "truer to life" than similar models.
And now researchers are using the teens' 3-D-printed bioreactor to examine the effects of the Zika virus during pregnancy. They will test FDA-approved drugs on the mini-brains to see if they might provide protection against the virus, the news release stated. 
"This is the next frontier of stem cell biology," neurology and neuroscience professor Hongjun Song said, according to the release.