The Prince Museum Unearths Rare Footage of Kendrick Lamar Performing Alongside the Icon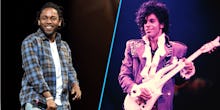 Historically, Prince was never the biggest fan of rap. But he loved Kendrick Lamar.
"Kendrick is the truth," Prince told Entertainment Weekly in 2015. "That's new, that's now. What he's doing, no one else is even trying."
As far as we know, the two innovators never managed to link up to record together before Prince's untimely death on April 21. However, they did perform together — we have the receipts.
Read more: D'Angelo and Maya Rudolph Give a Heartfelt Prince Tribute on 'The Tonight Show'
The Prince Museum, a Facebook group for Prince fans and collectors, shared a video on Monday of the rapper and the enigma performing together in front of a large crowd at Paisley Park. Together they ran through a Prince deep cut: "What's My Name," from 1998's Crystal Ball. 
The song's sparse instrumental gives Kendrick plenty of space to go in on a previously unheard verse, before throwing it back to Prince to bring it home.
It's a short but sweet taste of what could've been. Lamar apparently tried to get Prince to hop on To Pimp a Butterfly's "Complexion (A Zulu Love)," but they ran out of time before the deadline. 
"Prince heard the record, loved the record and the concept of the record got us to talking," Lamar said in a feature on the Grammys website. "We got to a point where we were just talking in the studio and the more time that passed we realized we weren't recording anything. We just ran out of time, it's as simple as that."