Justin Bieber Is Being Sued Over an Embarrassing Beer Bong Incident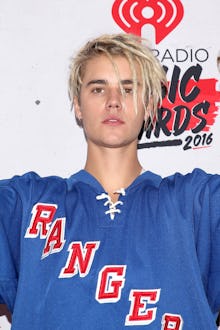 Things are about to get a little rocky for Justin Bieber: The singer is currently embroiled in a bizarre lawsuit after allegedly assaulting a fan who took a video of the Biebs trying — and failing — to drink from a beer bong.
The incident allegedly took place in Clé, a Houston nightclub, on the night of April 9 after the singer performed at the city's Toyota Center, local ABC affiliate KTRK reported. Bieber was apparently all up in the club with the plaintiff, Robert Earl Morgan, while a beer bong was being passed around (but why?).
This is where things get interesting: Bieber apparently went to chug from the bong, but failed, rather epically, as it seems from the text of the lawsuit: 
"Unfortunately, for Bieber he was clearly a novice because as he attempted to chug his beverage through the beer-bong ... he miscalculated the amount of beer he could intake and beer spilled all over himself, his clothes, and on his face," reads the lawsuit, according to KTRK.
According to the lawsuit, Morgan "was taking pictures and videos throughout the night in question," and an allegedly enraged (and sopping wet) Bieber "smashed Morgan's telephone into pieces and had his security detail toss Morgan out of the area where Bieber was located."
Now Morgan, who had to get a new phone, is suing the singer for $75,000, which seems like a lot more than what it would cost to replace a smashed cellphone. We can only assume that Bieber's legal team responded to the lawsuit by singing "What do you mean?"
Read more: Justin Bieber's Dreads Get Dragged for Cultural Appropriation on Twitter