Jay Z Is Reportedly Preparing a Whole Album to Respond to Beyoncé's 'Lemonade'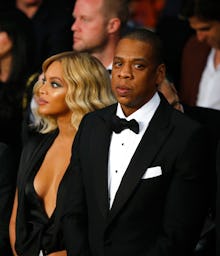 One of the juiciest and most entertaining aspects of Beyoncé's Lemonade was how hard it dragged one of hip-hop's most untouchable legends — her husband Jay Z — through the dirt. 
The way Beyoncé cracked the whip on her allegedly unfaithful husband made for some fire verses. "You can watch my fat ass twist boy/ As I bounce to the next dick boy," she sings on "Don't Hurt Yourself." "And keep your money, I got my own."
It was Nas' "Ether" treatment all over again — but Jay Z reportedly is not going to let his wife have the last laugh.
One unnamed "insider" has told Us Weekly that Jay Z is currently working on a rebuttal to Lemonade.
"Jay is working on an album telling his side of things," a source close to the couple said, according to the magazine. 
Cue up the most unexpected lyrical beef in hip-hop history.
If true, this report lends a little more weight to the theory that Jay Z was actually deeply involved in crafting the story behind Beyoncé's Lemonade.
"They're marketing masters," a source told Page Six about the couple. "The more attention, the more they sell, the better. All that speculation is to get press when they need it. Lemonade is much deeper than infidelity, but that's the focus. As long as people are talking, they don't care."
A Jay Z response record would absolutely get fans from across genres talking. Hopefully, it'll give Jay some new lyrical content beyond his same old crack stories and fine art metaphors. 
Read more: Beyoncé's 'Lemonade' Is What Happens When Black Women Control Their Art