Demi Lovato Says Wilmer Valderrama Is "Passionate" and "Stubborn" Like All Latino Men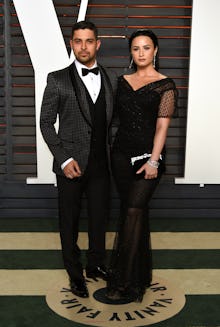 In an interview for the new issue of Latina, Demi Lovato opens up about her relationship with Wilmer Valderrama, who she calls "more passionate" than white men she's dated in the past. 
"When I dated white guys, it wasn't as passionate as my relationship with Wilmer," Lovato said to Latina. 
When Lovato described his passion, though, it came down solely to his Latino heritage: "I do believe that Latin people are just more expressive, more passionate with their emotions." 
She blames other personality traits on his ethnicity, too.
"Wilmer is very manly, and he can be stubborn like Latino men can, but he's protective and he cares so much and loves so hard," Lovato said.
Lovato's comments were likely coming from a good place, but they still reduced Valderrama to two personality traits that Latinos are attached to over and over again. 
Next time, Demi, when gushing about your boo Wilmer, stay away from tired stereotypes.