Gross Brooklyn Construction Workers Will Now Be Held Accountable for Street Harassment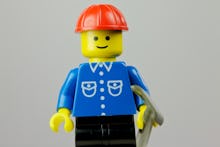 When someone gets catcalled by a construction worker, the pain they feel is two-fold, as they are:
1. Reminded that they don't have a right to their body or to public spaces.
In a move to hold construction workers accountable for their actions, those working on a massive apartment complex in the Prospect Heights neighborhood of Brooklyn will now wear different-colored hardhats identifying which company they work for, making it easier for victims to report incidents of street harassment.
According to DNAinfo, signs will be posted outside the construction site to provide passersby with a key that explains which color belongs to each of the four companies affiliated with the project.
Read more: This Artist Was Catcalled for 8 Hours to Illustrate the Dangers of Street Harassment
DNAinfo reported that the commitment to addressing catcalling comes after multiple neighbors complained about experiencing harassment while walking by the 22-acre construction site. 
President of the precinct's community council Wayne Bailey told the outlet he thinks the initiative will create a safer environment for residents and help keep the peace in the neighborhood.
"I think that that's a small investment ... for a lot of goodwill in the community — if they had a way to identify at a distance, so you don't have any confrontation," he said.
Women have spearheaded their own projects to end street harassment in the past. In 2014, Brooklyn-based artist Tatyana Fazlalizadeh hung up posters in major cities bearing messages like "Stop telling women to smile" and "I am not your property." And last year, imitation street signs reading "No Catcall Zone" and "No Catcalling Any Time" popped up in Manhattan and Brooklyn. 
Still, there remains only one proven method of conquering street harassment once and for all: street harassers shutting the fuck up.