Amber Rose Wants to Raise Her Son to Be a Feminist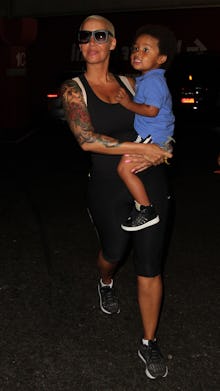 Get the five stories that will challenge you to rethink the world by signing up for MicCheck Daily.
Amber Rose wants her 3-year-old son Sebastian to be an upstanding young gentleman when he grows up.
In a People interview this week, Rose, who just landed her very own VH1 talk show, said that she is raising Sebastian to be a feminist: 
When my son goes to school and his friend calls a girl a hoe, I want him to be the first person to say, "Man, that's not cool. You don't talk to women like that." That's very important to me.
From her women's empowerment foundation to her annual SlutWalk protest event to her viral "Walk of No Shame" video, Rose has dedicated her life to the eradication of slut shaming. So it's no surprise that she doesn't plan on being the kind of mom who'd tell her impressionable young son, "You know what? Go ahead and call that girl a hoe. It's K!"
Honestly, can Amber Rose just be everyone's mom?
Oh, wait, she kinda already is.
h/t People