There Is a Drake Bot Called Botline Bling and You Can Use It to Be Wooed By the 6 God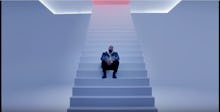 Most people on this Earth aren't afforded the honor of texting Drake — sweater connoisseur, Toronto Raptors team ambassador, Degrassi alum and rapper — but we can certainly imagine how it would go. Thankfully, now that dream has become a reality: meet Botline Bling. 
Created by Onion Labs copywriter Hassan S. Ali, the bot simulates a text message relationship with Drake, filled with all the Drake-isms that ring a familiar tune. 
How do we know? We tried it out. Here's what we got from it. 
It's certainly not a perfect bot, but the "Botline" is still procrastinating fun with Drake-themed puns abound. If you want to try it out yourself, just text "Botline" to 630-755-6641. Just don't bring up the Cheesecake Factory unless you want to stir trouble. 
Read more: Drake Says to Keep Your Relationship Drama Out of the Cheesecake Factory
h/t A.V. Club