Lupita Nyong'o Claps Back at 'Vogue' for Saying Audrey Hepburn Inspired Her Met Gala Hair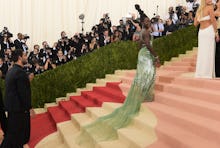 Lupita Nyong'o is not the new Audrey Hepburn, and she's letting Vogue have it for suggesting so. 
Iconic though the two actresses may be, the latter wasn't the intended reference for the very cool updo Nyong'o sported at Monday's Met Gala, as Vogue suggested. Noting that the Eclipsed actor cited Nina Simone as one of the inspirations behind her updo, the fashion magazine attributed her hair to a much less likely source.
"The sculptural style is also reminiscent of the updo Audrey Hepburn sported in a 1963 Vogue shoot with Bert Stern," the article reads. 
As Black Girl With Long Hair reported, the comparison is "baffling, because sculptural updos are a distinctly African style." 
Given white culture's tendency toward appropriation, it seems more likely that Hepburn's coif borrowed from precisely these "distinctly African styles." Regardless, Nyong'o quickly and politely corrected the misattribution in an Instagrammed slideshow of her real hair influences. 
"Hair Inspiration. Check. @vernonfrancois @voguemagazine #metball2016," she captioned her post. An understated and emphatic "nope." 
Read more: Emma Watson's Met Gala Dress Was Made Entirely of Recycled Plastic, and It Slayed