Mexican-Americans Want You to Know You're Celebrating Cinco de Mayo Completely Wrong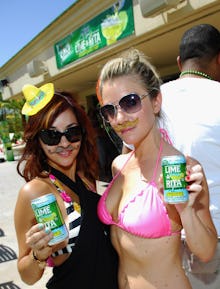 Get the five stories that will challenge you to rethink the world by signing up for MicCheck Daily.
Lenny Herrera doesn't blame you for celebrating Cinco de Mayo. 
In fact, the 22-year-old sociology major at Binghamton University, who is half-Mexican and half-Salvadorian, thinks it's fine to have fun and appreciate the rich culture that the holiday represents. Where Herrera draws the line, though, is when revelers rely on dangerous stereotypes to aid them in their celebrations.
"What annoys me the most is when people have a sombrero and they put on a mustache and they hold maracas ... that's sort of the 'costume' they go out with. It's definitely not reflective of the complexity of Mexican history and heritage," he said in an interview. 
Herrera, like the rest of us, is living in the age of presumptive-Republican nominee Donald Trump, who famously called Mexicans "rapists" in the early days of his candidacy. 
He is acutely aware of the lasting damage that touting bigoted stereotypes can have on a community.
"Americans who are not Mexican need to think more about educating themselves on Mexican history so that they don't have the misconception and produce a stereotype that is often portrayed by candidates like Trump," Herrera said. "I think that people need to be open to listening to the stories and voices of Mexican-Americans." 
The holiday marks the victory of a tiny army of untrained Mexican farmers over the well-armed French military during the Battle of Puebla on May 5, 1862. Although Mexican forces went on to lose the war, the unexpected victory energized the country and became emblematic of the perseverance of a nation. 
"To me, the holiday represents the ceaselessness of the Mexican people," said Jessica Mendoza, a 28-year-old Xicana youth services worker. "We were in the midst of a losing war, so winning that battle raised our morale and gave the Mexican people the push they needed to keep fighting."
In the United States, Cinco de Mayo has a much different meaning. The holiday is widely seen as an occasion to knock back salt-rimmed margaritas and shots of tequila chased with lime slices, one where tacos and sombreros abound. Revelers apply fake mustaches and faker accents. The scene is, in large part, sloppy.
So, how do Mexicans actually celebrate the momentous occasion? Outside of the small town of Puebla, where the battle took place, they largely don't. Cinco de Mayo isn't a federal holiday, so school and work are still in session.
In Pueblo itself, mariachi music, parades and battle reenactments fill the day, and traditional dishes like tacos and mole poblano are shared.
Fabiola Franco, a Mexican-American woman, said that the day is "such a minor holiday in Mexico."
"Being the first generation born in the U.S., I feel strongly connected to my Mexican roots and I can full-heartedly say it has become an American holiday," Franco said.
The day's informal monikers ("Cinco de Drinko" or "Drunko de Mayo," depending on who you ask) serve as further evidence that the holiday has been co-opted by the non-Mexican community.
"People calling out 'Andale! Andale!' like speedy Gonzales. People making jokes about border hopping... they don't realize how dangerous that is and how desperate anyone that attempts that must be — for not just a better life, but a chance at living at all," Mendoza said.
According to a 2009 Pew Research Center study, 81% of the Mexicans surveyed named crime as a "very big problem" plaguing the country. Many undocumented immigrants choose to make treacherous journeys across the border in order to secure higher wages and increased job security for themselves and their families.
Mendoza echoed Herrera's sentiments that celebrating could be done responsibly, but urged revelers to take authenticity into account while doing so.
"If you, for whatever unexplainable reason, still feel compelled to celebrate, go to a Mexican-owned business... you'll get to enjoy authentic Mexican food and beer all while supporting small business!" Mendoza said.
Above all else, Herrera cautions against toeing the thin line between cultural exchange, which is more about "appreciating the culture," and cultural appropriation, which is "...sort of about portraying negative stereotypes that devalue the culture of Mexican-Americans," he said.
If you're looking for advice on how to celebrate responsibly, Franco summarizes it succinctly:
"Have some Mexican food, have a shot of tequila, embrace the Mexican culture. Just do so in a respectful manner," she said.