Beyoncé Speaks Out Against North Carolina's Anti-LGBT Law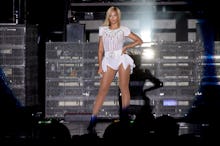 In the past, Beyoncé has usually avoided troubling herself with the legal affairs of mortals — at least publicly. However, it seems North Carolina is a different story.
On Tuesday night, Beyoncé performed at the Carter-Finley Stadium in Raleigh, North Carolina. She didn't boycott, like Bruce Springsteen, or turn her concert into a fundraising event, like Against Me! Instead, Beyoncé took a more subtle approach, quietly coupling her performance with a post on her website speaking out against the state's discriminatory HB2, more commonly known as the "bathroom bill."
Read more: Beyoncé Announces Additional Charity Stops to Her Formation World Tour
Tuesday's post offers a brief history of the bill, describing how it was pushed through the North Carolina Legislature. It also celebrates the organizations that are now working tirelessly to dismantle the legislation.
"We think it is important for us to bring attention to those who are committed to being good and carrying on the message of equality in this core of controversy," the singer's website reads, before introducing Equality NC to the Beyhive, describing it as "a local organization dedicated to securing equal rights and justice for lesbian, gay, bisexual, transgender, and queer (LGBTQ) North Carolinians."
Bey also described the tactics the group has been using in their fight.
To accomplish these goals, Equality NC tirelessly lobbies the North Carolina General Assembly, executive branch, and local governments, broadcast LGBT news, stories and content, and mobilize our communities on issues that matter, including marriage equality, parental rights, inclusive anti-bullying policies, employment discrimination, hate violence, privacy rights, sexuality education, adoption, domestic partnerships, and HIV/AIDS.
This might be the sign of a brand new Bey. The Houston singer has faced criticism in the past for being slow to respond to instances where LBGT communities could have used celebrity support. A November Huffington Post article accused Beyoncé of abandoning the LGBT community in her own hometown when the city was set to vote to repeal an anti-discrimination city ordinance called Houston Equal Rights Ordinance. 
Before "Formation," which showed the artist taking a stand against racially motivated police brutality, she had also chosen to do much of her work supporting the Black Lives Matter movement behind-the-scenes.
Yet with this statement against HB2, no one should have any doubts about which side of the debate Beyoncé falls. It's one more way Beyoncé is looking to spark a movement with her Formation Tour. If her activism ends up moving even half as many people as her album did, we may all find ourselves in a very different world very soon.