What It's Like to Celebrate Mother's Day When You're Estranged From Your Mom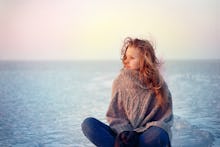 "Mother's Day is always uncomfortable for me, ever since I was little," 36-year-old Sally* said in a Gchat interview. Last year before Mother's Day, Sally decided to cut ties with her mom, who left home when Sally was a child but sporadically reappeared throughout the years without explanation.
"I stopped talking with her because I don't feel safe," Sally said. "I don't have kids of my own. Not entirely sure I want kids. I may adopt or foster because I know what it's like to feel abandoned. I always feel sad on Mother's Day and try not to notice it much ... It's a great source of sadness for me but I also realize my mother will never be the mother I need(ed) because she is actually incapable of that."
This year, marking the holiday without family is still difficult. For people like Sally who have toxic relationships with their moms, Mother's Day can be an annual reminder of their pain and loneliness.
"Now that some of my friends are mothers, I will wish them a happy day," she said. "But this year, I'm not doing anything for my mother. Not even an email." 
The internet is full of support groups for people with narcissistic moms, or mothers who have an inflated sense of self-importance, combined with a lack of empathy for others. Weeks before Mother's Day, the Reddit community r/raisedbynarcissists started running a support thread for members who have negative feelings about the holiday. Hundreds of users packed the thread with comments.
It's unclear exactly how common parental estrangement is. In the psychology text book Families in Later Life, author Alexis Walker cites a study from the University of Southern California, which found that 7% of surveyed adult children were "detached" from their mothers. Yet there are few reliable studies with any insight into, say, the reasons why an adult child might want to cut off all contact with a parent. 
Last year, Jezebel writer Natasha Vargas-Cooper wrote an ode to all the women who learned how to navigate toxic maternal relationships, some by leaving them behind completely and others by dealing with their moms in small doses.  
"Tightly scheduled phone calls, no surprise visits or some topics that agreed to never be discussed," she wrote in the Jezebel post. "This is not easy. Surely, it has caused you anguish and late-night fights with your significant other. You also deserve credit that you likely do not get enough of." 
For those with toxic moms, Mother's Day can be an extremely stressful holiday, and many are left wondering how to commemorate the holiday. In Half Moon Bay, California, for instance, 29-year-old Mary* plans to call her paternal grandmother on Mother's Day and go out with her motherless roommate for cocktails. But she will deliberately stay offline to avoid the flood of mom-centric Facebook posts. 
"We [Mary's mother and herself] kind of broke up when I was 17. Out relationship was toxic and it drove me into a suicidal depression," Mary said in a phone interview. "I finally ended my relationship with my mother rather than ending my life." She described Mother's Day as an annual day of dread. 
"You do not need a maternal relationship in your life in order to be a whole person." 
Not everyone with a terrible parental relationship needs to cut ties altogether. New York licensed social worker and psychotherapist Steven Welch recommends that adult children with stressful maternal relationships set boundaries to protect themselves. 
"Ask yourself, are there different ways to connect with mom that limit the toxic impact? Like making a Mother's Day call short and giving yourself a time limit," he said in a phone interview. "Or send flowers or a card instead of having a conversation." 
Regardless, Mother's Day can still be stressful for sons and daughters navigating those unhealthy bonds. Houston*, 17, is spending his first Mother's Day without his biological mom. While he hasn't permanently cut ties with her, he couldn't be happier about the choice to forgo phone calls and visits this Mother's Day. 
"I felt a lot of pressure on Mother's Day before," he said in a phone interview. "It always felt forced. This year, I feel really great compared to previous years. I'm happy to celebrate the people in my life and recognize the people in my life ... Any woman in your life, even a teacher, can be someone you appreciate on Mother's Day. It's up to you who you appreciate."
Unlike Houston, who might send a courtesy card to his mom, Mary isn't open to reconciliation or communication any time soon. She would strongly encourage anyone thinking about ending a toxic relationship to do it sooner rather than later. 
"[People who cut off toxic parents] will feel better. They will feel freer," Mary said. "You do not need a maternal relationship in your life in order to be a whole person." 
Welch agreed, although to a less extreme extent. He recommended that his patients reflect on how all relationships make them feel. And if every interaction with someone, even a parent, makes the patient feel bad about themselves, it's time to reconsider how often to engage with that person. "Creating boundaries will make you feel happier and less stressed," he said. 
*First names have been changed to allow subjects to speak freely on private matters.