Go to TedCruz.com Right Now for the Perfect Last Word on His Candidacy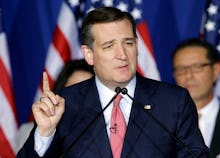 On Tuesday night, Texas Sen. Ted Cruz dropped out of the Republican presidential primary race, becoming the second-to-last casualty of an election season dominated by real estate billionaire Donald Trump (the last, Ohio Gov. John Kasich, will reportedly soon follow Cruz to the grave).
While Cruz may have been put out to pasture, his biggest failure outlives him: failing to secure the www.TedCruz.com domain.
Web users heading there Wednesday are being greeted with a message that adds insult to injury...
...the caption "Next president of the United States of America!!!" accompanied by a photo of former Secretary of State Hillary Clinton.
The website has previously displayed messages supporting President Barack Obama and immigration reform (an issue on which Cruz has a long, circuitous history):
Let this be a reminder to future candidates: Failing to register your own web domain will make you and your campaign team look even stupider when you don't win the election. He (or she) who laughs last laughs best, or something like that.