This Man Is One of the Best Archers in the World — And He Has No Arms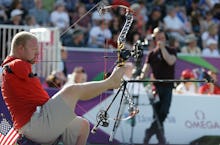 What if one of the world's best soccer players had no legs?
Well, Matt Stutzman is a world-class archer who was born without arms.
But that didn't stop him from being incredible at his sport.
Check out Stutzman's profile for the 2016 U.S. Paralympics team.